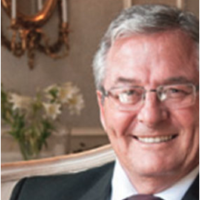 Fraser Carey
Co-Founder and Director
Fraser Carey
The co-founder and director of The School of Etiquette
Fraser qualified as an attorney and practised law specialising in corporate law. After many years of working in law, Fraser left law and went into manufacturing, starting a number of businesses, chief of which were wonder rock and palazzo baths. They both enjoyed huge success with palazzo baths receiving many international awards. The baths graced the best hotels in the world.  In 2012 Fraser embarked on a career as a professional speaker specialising in the fields of "workplace happiness" and "success principles".
In 2015, Fraser specialised in the field of Truly Human Leadership where he drives organisations and leaders to improve the quality of leadership in both organisations and at government level.
Fraser also speaks on the subjects of Self-esteem, Dealing with unhappy customers, Conversational Intelligence, Workplace Happiness and Success Principles.
Fraser maintains that inspiring, empowering and igniting hope in the human heart gives him huge joy and is now his life's purpose.